Home
/
Kimberly Air Conditioning Tune-Up
Mini Split Services in Kimberly, Idaho
Are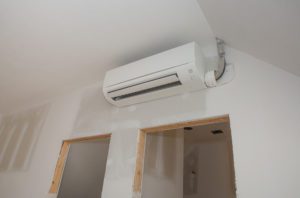 you looking for a traditional way to heat or cool your home that does not involve ducts? If so, ductless air conditioners and heaters may be exactly what you need.
What Is a Ductless System?
Ductless systems (also referred to as mini-split systems) are a great way to optimize the temperature control inside your home. These systems consist of a wall-mounted unit and a compressor. The wall-mounted component is installed inside the house, while the compressor is installed outside. This design comes with its own set of advantages and disadvantages. Read on to learn more about them.
Advantages of Mini-Split Systems
Ductless systems contain several distinct advantages. 
Less Space Required
Mini-split systems are a great alternative to standard window-mounted air conditioning and ground-based heating units. Where window units need a large opening, ductless air conditioners are positioned over a tiny hole that connects them to the compressor. This placement protects them from a variety of potential problems and provides peace of mind regarding their security inside the home. They are also not as much of an eyesore as traditional window-mounted units.
Quiet Operation
In regards to noise, ductless systems are much quieter than their duct-based counterparts. Mini-split fans operate at a low speed, which ensures a minimum signal-to-noise ratio (SNR). Since the compressor is outside, the unit is almost inaudible.
Energy Efficiency
When it comes to energy-efficient AC, mini-split systems are just the ticket. That's because energy tends to get lost in the ductwork used in central air conditioning, resulting in higher bills and inefficient temperature control. Additionally, the compressors in duct-based systems shut down and need more energy to restart. Unlike those systems, the compressors inside mini-split systems have an inverter that allows for uninterrupted operation by adhering to the system's demands.
Potential Incentives
Although they may appear costly, it is essential to remember that installing a ductless system could lower energy bills. Whether this is the case depends on a variety of other factors. Some ductless systems can also qualify for incentives such as federal tax credits. That's because ductless systems use less energy and are more environmentally friendly.
Optimal Indoor Air
Ducts are havens for all sorts of nasty particles and debris, which can make life difficult for anyone in your home who has allergies or other respiratory problems. Since mini-split systems do not use ducts, all you have to worry about is cleaning them once per month.
Customization
Unlike duct-based models, ductless systems are perfect for customizing the temperature of a single room. Since each unit has its own temperature settings, mini-split systems are great for situations where individual household members have different temperature preferences.
Disadvantages of Mini-Split Systems
Despite their benefits, mini-split systems are not without their disadvantages.
High Upfront Cost
One of the biggest deterrents to ductless air conditioners and heaters is their upfront cost. Ductless systems are more expensive to purchase and install than duct-based and window-based systems. However, most argue the investment does pay off in the long run.
High Cost of Removing Ducts
If you already have a ducted system, the cost of switching it out with a mini-split system is considerable, especially when factored against the cost of replacing it with another duct-based model.
Are you considering a switch from a duct-based system to a ductless system? Then it is a good idea to contact a local HVAC technician before making a decision. If you are near the Kimberly, ID, area, Home Heating & Air Conditioning is ready and willing to help. Our team of experts will assist with all your heating and air conditioning needs, including maintenance, installations, and repairs.
Maintaining Your Ductless System
Ductless systems require extra care to ensure their efficiency and longevity. You will want to make sure that you wash the filter every month, and possibly even more often if you have pets that shed. Keeping up your unit's cleanliness is important because the fans in ductless systems are sensitive to debris, so excessive buildup can cause problems that will necessitate professional maintenance.
Is a Ductless System the Right Choice for You?
If you are curious about installing a ductless system but unsure if it is the right choice, the first thing you will want to check is the layout of your home. Planning and measuring are situations where you should contact a qualified HVAC contractor.
Here are some circumstances that favor ductless systems:
Your house does not already have ductwork

You have a specific room that requires temperature control

There are rooms in your house you do not use

You want to establish independent temperatures for individual rooms

You've added to your home and don't want to install ducts
If any of the above situations apply to you, contact Home Heating & Air Conditioning right away. We provide heating and air conditioning services throughout the Kimberly, ID, region and are ready to assist with your temperature control needs. Have you found yourself wondering, "Is there a qualified HVAC contractor near me"? The answer is yes. It's Home Heating & Air Conditioning.
CONTACT HOME HEATING & AIR CONDITIONING
IF A HEATING OR COOLING EMERGENCY STRIKES,
GIVE US A CALL!

(208) 732-1211